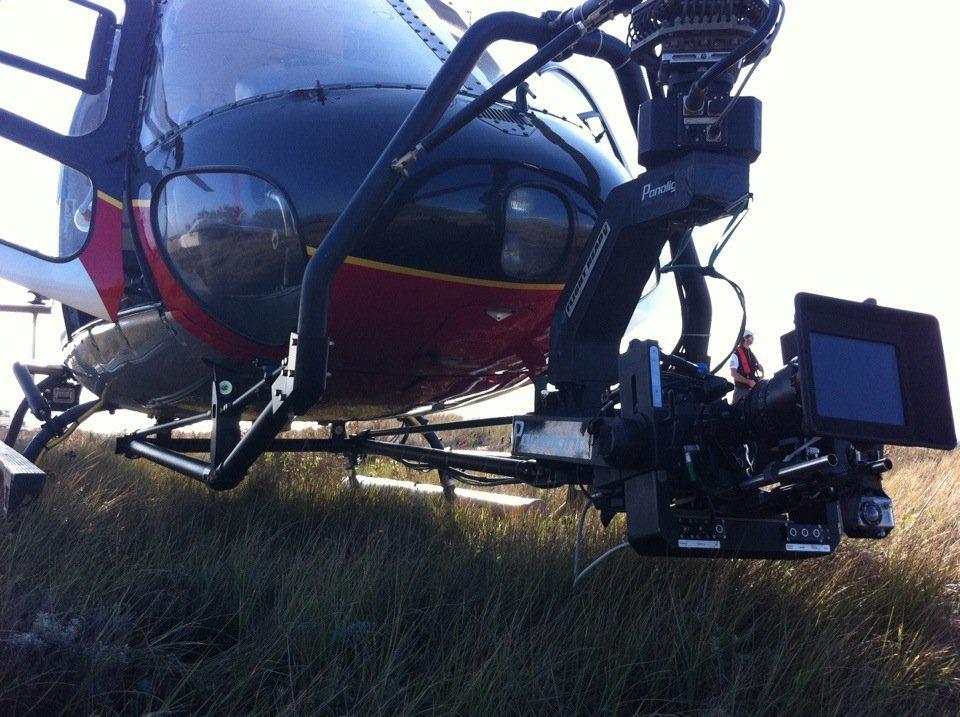 Flight head V Advanced
The Flight Head's unique gyrostabilized system , ensuring an extremely smooth and stable picture throught 300mm zoom range (film lens). Operated with hand wheels or joystick the Flight Head can be mounted on a wide variety of vehicles helicopters and cablecam rigs, etc. Accepts most of motion picture, still and HD cameras Mitchell mount Compatible with most camera packages Sealed for rain, mud, snow,sand, etc.
Control: Joystick, handwheels,
Setup time 30- 40 min
SPECIFICATIONS

: Lenght 76cm Width 56cm Height 100cm Pan range 360 ° continuos
Roll Range +100 °;250 ° Automatic Horizon Level
Tilt Range +80 °;165 °Pan Speed,Roll Speed, Tilt Speed 160 °/sec Temperature range from -30 °C up to +40 °С
Weight 24kg – 27kg (depending on a version of FlightHead)
Payload capacity up to 40kg

POWER

24 30

VDC

• 2 Amps Standby • 15 Amps Din..Max
SPACECAM MAXIMUS 7
EMPLOYS A COMPLETELY NEW PROPRIETARY APPROACH TO ALLEVIATE EXTERNAL ROTATIONAL DISTURBANCES
HEAD PERFORMANCE
Incomparable stability
Unlimited movements in all directions
Complete freedom to be mounted in any position: top, bottom, cantilevered; transitions can occur while operating
No need for leveling head
Keeps virtually perfect horizon even under continuous high G forces
Excellent static and dynamic stability allowing long lenses to be used
Wide payload inertia range
Silent in studio – rugged outdoor performance
Fiber optic lines insure optimal video quality
Extremely Low drift rates
---
MECHANICAL FEATURES

Compact size and light weight
Quick system mounting for all rigs- Mitchell mount included
Quickly accepts both 4" and 6" yoke extensions to accommodate the longest payloads
Weather resistant – conformal coated electronics
---
| | |
| --- | --- |
| System Type | 7-axis carbon fiber gyro stabilized head |
| Head Weight | 64 lbs (29 kgs) |
| Head Dimensions | L: 23.5" W: 8" H: 29.5" (60 cm x 20 cmx 75 cm) |
| Temperature | -20° to +50°C (-5° to 122°F) |
| Pan, Tilt and Roll Limits | 360° Continuous in all axes |
| Pan and Tilt Speed | Up to 240° / sec |
| Payload | Wide variety of camera and lens configurations. 75 lb payload plus |
CONSOLE MODES
SpaceCam…mimicking SpaceCam operating conventions.
SpaceCam 2….maintains absolute control polarity with image on the screen even when camera is inverted.
Zedir Pan Mode…allowing straight up or down pan movements with system auto-leveling when horizon is about to enter frame.
Hard Mode…unstabilized, locked totally to position of mounting (coming soon)
---
Follow Mode…selectable individually for Pan, Tilt and Roll
Roll Stick…selectable velocity and position control modes. In position mode, roll returns to position of origin when roll stick is released.
CONSOLE FEATURES
Stick functions swappable for lefties
Dynaglide wheel control unit. Various wheel inertias available upon request as well as optional variable drag system
Optional pan bar (Cartoni E-Cube)
Optional military style strain gauge hand-held joystick
Controls can be individually tailored for all aspects of control response, polarity, smoothing, etc.
Option for remote power on/off for cable rigs and cranes
Wireless operation up to 1.5 miles (2.4 kms) with option of 10 miles (16 kms)
Motion record and motion playback capability
Control console magnetically attaches for swift change-ups
Dedicated controls for 95% of common functions
Console weight is 6.5 lbs (2.3 kgs)
Sculpted foam magnetic lap console mount available
---
APPLICATIONS
Maximus 7 is the most versatile 7 axes gyro stabilized head on the market today. It's ability to go from camera car to studio makes it the "go to" head for all your filming needs including:
Telescopic Cranes
Camera Cars
Boats
Studio
Jib Arms
Standard Cranes
Dollies
Cable Rigs
Motorcycles
ATV's
Motorized Arm Cars
Helicopters
R.T.V.L. (Real Time Video link)
A new Video transmission system on a multy-channel device( from 2.400 Mhz to 5800 Mhz) can assure a good distance range of an analogic signal ( on an open sea situation can arrive up to 3 Km. with a 2 on 3 receiving signal) provided with directional antennas on the ground and omni directional antennas placed on different sides of the helicopter to cover any position needed for the shooting .
Continental Mount
The Continental Mount was born years ago to address the need to carry cameras and place them on the door of the helicopter. The system allows you to balance the weight of the camera and have it neutral , additional gyro stabilizers provides an inertial platform managed directly by 'operator, achieving excellent results of stability.
The Continental Mount can be mounted on both sides of the helicopter and allows, in case of use of traditional cameras to be able to change mags of film in flight without having to land . The working angle useful to shoot is 100 ° pan and 70 ° tilt of these angles can be expanded with special maneuvers the helicopter.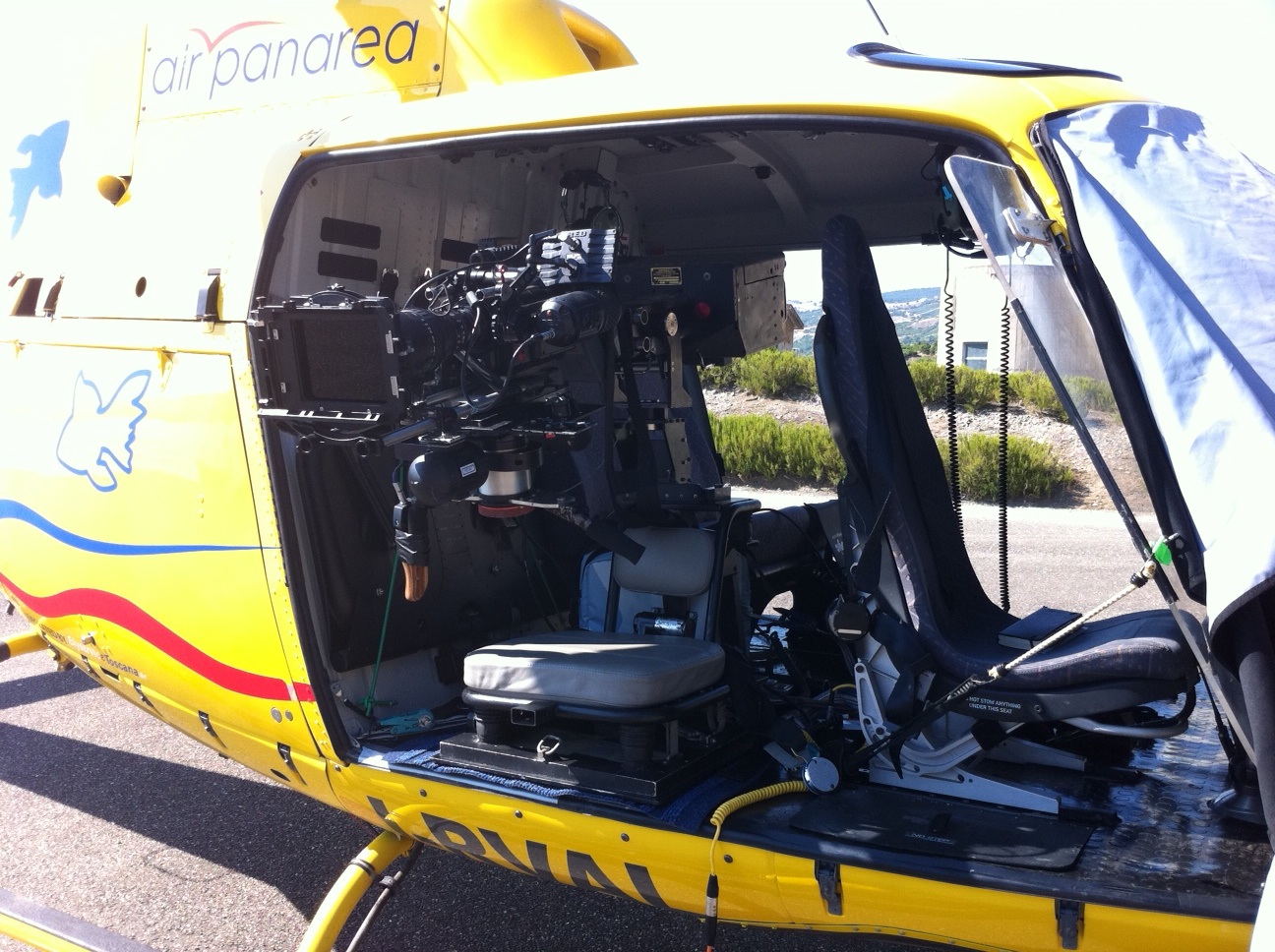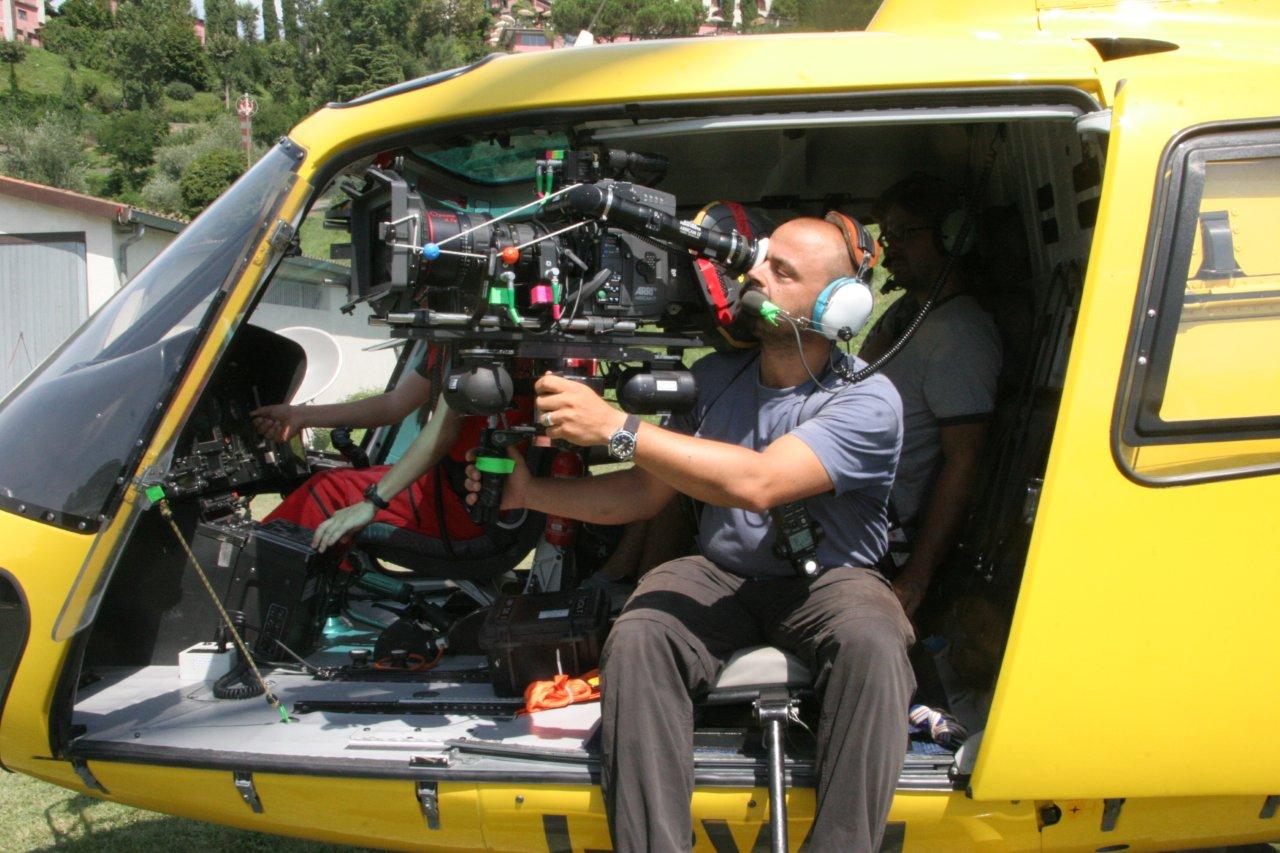 H360 Belly Mount
In fase di studio avanzato ma non ancora omologato si trova il progetto H360 capace di dare massima libertà di movimento alla MDP permettendo rotazioni di 360° e fornendo con un solo Mount la possibilità di effettuare frontali e posteriori di mezzi in movimento senza dover cambiare mount sull'elicottero.
Under study but not yet approved the H360 project capable of giving maximum freedom of movement to the MDP allowing rotations of 360 ° and providing with one Mount the possibility of making front and rear of moving vehicles without having to change mount on 'helicopter.
Cineflex HD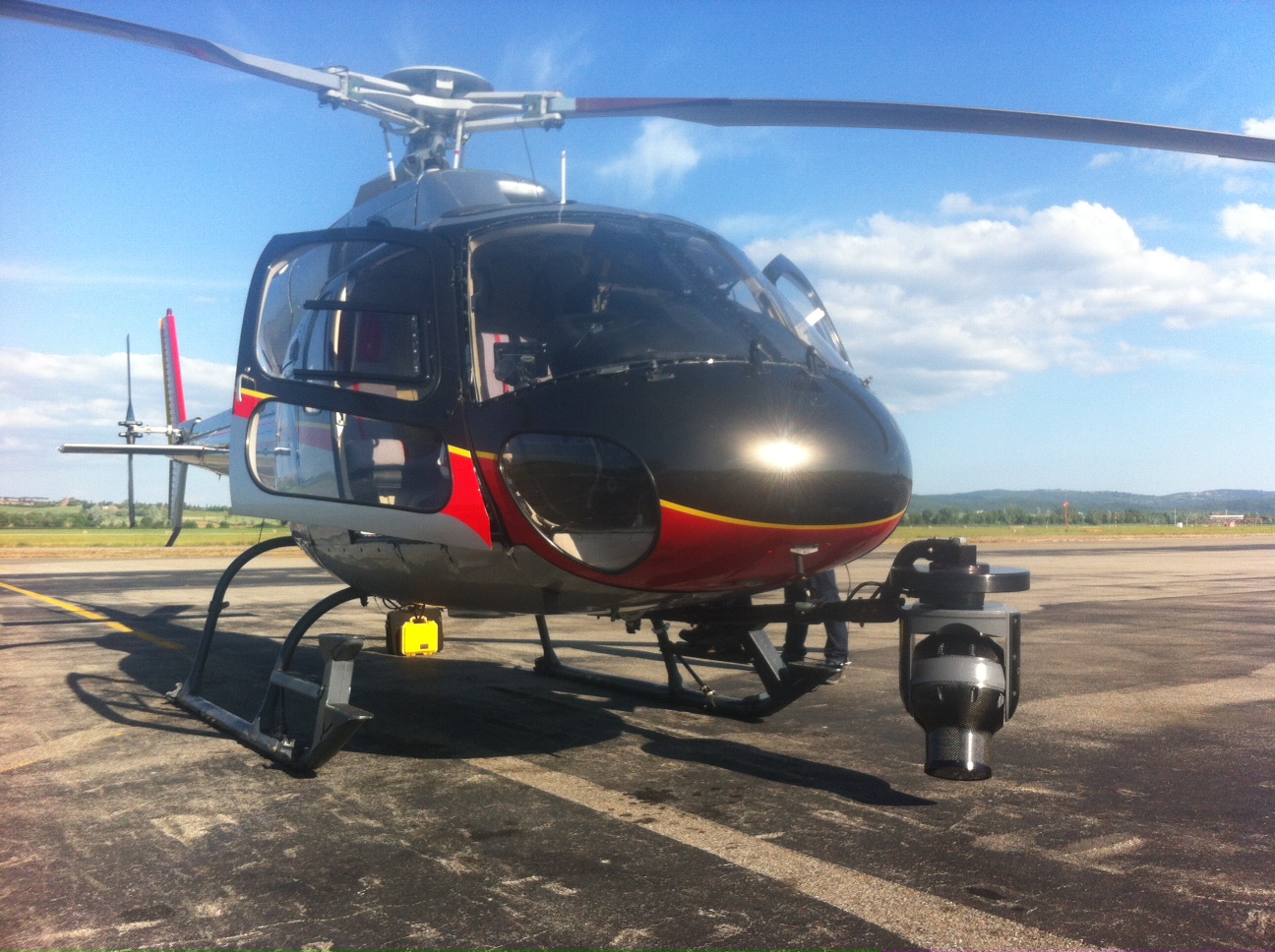 System Type 5-axis gyro-stabilized, Full Digital Servo
and Control System, High Performance/
Small/Lightweight
Field of Regard Automatic and Steerable
Azimuth Coverage 360° Continuous
Elevation Coverage +20° to -195°
Roll Coverage +/- 45°
Slew Rate >55°/sec
Maximum Slew 100°/sec
2
Acceleration
Position Resolution .001°
Electronics High Speed 32bit DSP
Communication Links Bi-directional RS422 and RS232
Operating Temperature -20° to +45° C
HD Daylight Imager
Camera Sony HDC-1500
Imaging Device 3-CCD 2/3˝
Effective Pixels 1920(H) x 1080(V)
Aspect Ratio 16:9
Frame Rates 1080/60p-50p-30p, 1080/60i-50i, 1080/24p-25p,
720/60p-50p
Spectrum System F1.4 prism system
Built In Filters 1: Clear, 2: 1/4ND, 3:1/8ND, 4:1/16ND, 5:1/64ND
A: Cross, B: 3200K, C: 4300K, D: 6300K, E:8000K
Servo Filter Control Yes
Sensitivity F10 at 2000 lx (3200k, 89.9% reflectance)
Signal-To-Noise Ratio 54dB (typical)
Horizontal 1000 TV lines
Dimensions
Turret (dependent on lens) 65-68 lbs. 14.5˝ x 19.5˝ x 19.5˝
Auxiliary Control Unit 27 lbs. 14˝ x 19˝ x 6˝
Laptop Control Unit 5 lbs. 17˝ x 8.75˝ x 1.8˝
Cable Set 9 lbs. (20´ length)
380 Crown Point Circle
|
+
Grass Valley, CA 95945
Specifications are subject to change. International sales are subject to ITAR restrictions. Memory Stick
V14 HD
is a registered trademark of the Thales Group.
Power
Input Voltage 28 Vdc ± 10%
Power – Quiescent 85 Watts
Power – Continuous 170 Watts
Power – Transient 230 Watts
Main Control Unit
Interface Digital serial (RS-422)
Incorporated Camera Accessories
Sony HKC-T1500 CCD Block Extension Adaptor
Sony RM-B750 LCD touch-panel screen, direct
push buttons plus Memory
Stick
media card slot to recall
setup parameters
™
Lens Options
The camera system can be adapted for multiple lens
configurations upon request.
Angènieux
40 x 11 AIF-HR (11mm to 880mm optical,
1760mm digital)
Angènieux
™
40 x 22 AIF-HR (22mm to 1760mm optical,
3520mm digital)
Fujinon
™
™
HA 42 x 13.5 (13.5mm to 1134mm optical,
2268mm digital)
Fujinon
HA 42 x 9.7 (9.7mm to 815mm optical,
1630mm digital)
Fujinon
™
HA 22 x 7.8 (7.8mm to 343mm optical,
686mm digital)
Fujinon
™
HA 13 x 4.5 (4.5mm to 117mm optical,